Bluewater Health RPN Receives de Souza Designation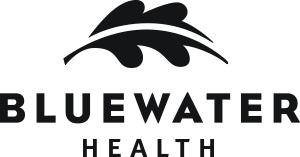 SARNIA & PETROLIA – In commemoration of National Nursing Week, Bluewater Health and the de Souza Institute are jointly celebrating the achievement of Registered Practical Nurse (RPN) Sheila Courtney, who recently obtained the de Souza Nurse Associate Designation – the first in Sarnia-Lambton and one of approximately 25 in Ontario to do so.
The de Souza Nurse Associate Designation is the second-highest a direct care nurse can achieve.  It is ideal for RNs or RPNs, who are not specialized in oncology or palliative care, but are caring for patients with or at risk of developing cancer, or providing palliative care. de Souza nurses work in regional cancer centres, hospice/palliative care, community or general hospitals, and public health or community agencies. The flexibility of course offerings allows nurses to create their own timeline to complete this rigorous process, generally over the course of two years. To date approximately 9,000 healthcare professionals have enrolled in de Souza courses.
To receive this designation, nurses must obtain 4.0 credits by completing at least one course from each of the four domains of practice, with each course ranging in value from 0.25 to 1 credit. Other requirements include passing a Foundations of Oncology Nursing Practice course or the Provincial Standardized Chemotherapy and Biotherapy course, receiving a passing grade in all of their de Souza courses, having at least one year of continuous clinical experience and being currently registered and in good standing with the province's College of Nurses.
Sheila, who works at Charlotte Eleanor Englehart Hospital (CEEH) of Bluewater Health in Petrolia, first enrolled in a de Souza course in April 2014. Through dedication, commitment and time management she completed 10 courses totalling a combined 205.5 learning hours to build new knowledge and best practices in oncology and palliative care. She completed her last course in March 2016. Sheila is a member of Bluewater Health's Advance Care Planning Committee and a valuable resource on palliative care best practices. Sheila represents nursing excellence, through her life-long learning and her commitment to best practices.
"What an accomplishment," says Shannon Landry, Chief Nursing Executive, Bluewater Health. "Sheila's dedication and commitment is so appreciated. Expanding her knowledge to provide exceptional care will enhance our patients' experience at Bluewater Health every day."
"A palliative care nurse is able to make a difference by offering a variety of support through emotional and spiritual care, pain and symptom management or bereavement counseling," said Dr. Mary Jane Esplen, Executive Director of de Souza Institute.  "Being a de Souza Nurse Associate Sheila is committed to making a difference and shows her commitment to keeping up to date with latest approaches. She has the confidence and advanced skills to assist patients and their families through the most difficult of times."
Bluewater Health, with locations in Sarnia and Petrolia, cares for the residents of Sarnia-Lambton. With close to 2,500 staff, Professional Staff and volunteers, Bluewater Health provides an array of specialized acute, complex continuing care, allied health and ambulatory care services. State-of-the-art facilities, which opened in 2010, contribute to Bluewater Health's Mission: We create exemplary healthcare experiences for patients and families every time. For more information about Bluewater Health, visit www.bluewaterhealth.ca or follow us on Facebook and YouTube.
Established in 2008, de Souza Institute, in partnership with University Health Network, Cancer Care Ontario and funded by Ontario's Ministry of Health and Long-Term Care, provides ongoing educational support, professional development and career counseling to nurses caring for cancer patients and families. de Souza Institute is providing cancer care excellence by: delivering innovative continuing education and mentorship programs; helping nurses to achieve national specialty certification; funding graduate scholarships to develop tomorrow's leaders, and supporting in self-care and career development. To learn more about de Souza Institute visit www.desouzainstitute.com
For more information contact: