News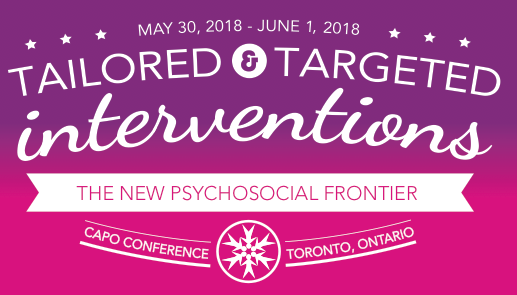 ---
Join us at CAPO 2018, this year's theme is "Tailored & Targeted Interventions – The New Psychosocial Frontier."
We are involved with a number of sessions at the conference including:
Wednesday May 30 – 1430 to 1530
B217 – Restoring Body Image After Breast Cancer: The translation and development of an online group therapy – Presented by Lianne Trachtenberg
B238 – Using an online educational support group to address fear of cancer recurrence in cancer patients post-treatment – Presented by Marita Poll
Wednesday May 30 – 1600 to 1730
S156 – Preparing clinicians to provide high quality psychosocial cancer care: Integrating psycho oncology in clinical care through a competency-based education system – Moderator: Mary Jane Esplen Discussant: Zeev Rosberger

Improving quality of palliative care in oncology through standardized online education – Presented By Jiahui Wong
Thursday May 31, 2018 – 1345 to 1445
B231 – The Impact of Gender Identity on Psychosocial Well-being among Young Breast Cancer Survivors: A Mixed Method Study – Presented by Lianne Trachtenberg
Thursday May 31, 2018 – 1500 to 1630
S139 – Addressing Mental Health Needs with Online Approaches: Trials, Tribulations and Seduction – Moderator: Mary Jane Esplen Discussant: David Gratzer
Friday June 1, 2018 – 1030 to 1200
S149 – How are we training researchers and clinicians in psychosocial oncology? A symposium on different training models across Canada. – Moderator: Sophie Lebel Discussant: Amanda Wurz

Educating health care professionals in Psychosocial Oncology through distance education – Presented by Mary Jane Esplen

---
To be a dancer you need music, to be a painter you need a canvas and to be a nurse you need patients.
Oncology Nursing Day is April 3rd and the theme is "Excellence in Oncology: Our Patients, Our Passion". A theme designed to explore the relationship between nurses and patients. On the surface, it would be easy to conclude that the relationship is one sided with nurses being the net contributors and patients being the beneficiaries. However, in practice the relationship is much more dynamic where the roles aren't always that linear.
Oncology nurses share their expertise, compassion and humility with their patients every day. No two days are ever alike, the variables are constantly changing – a new patient presenting with different symptoms, different responses to treatment or introducing new forms of treatment. But the underlying motivating factor remains constant, a desire to be an excellent nurse and have a positive impact for patients and their families.
Oncology nurses recognize that patients living with cancer are forced into a challenging life experience by a disease they have no control of. Despite the best available treatments, the future for cancer patients is unclear and there are times when the uncertainties are too numerous to count. Nurses can also feel sad and helpless confronting death and dying – prompting them to reflect on the meaning of their work. At that moment, patients are a motivating source, through their often determined resolve to fight cancer. They share their life lessons, compassion and humility with nurses daily.
This year we will be hearing several remarkable stories on how patients inspire nurses. These moments can be something as little as a bright smile or something larger such as hearing that they are being discharged. Despite everything that is going on patients have the ability to teach nurses on how to find resilience in challenging situations, how to value life and what is important, and how to show strength and courage.
All of these interactions leave an impact on nurses; it shapes who they are as a professional and just as important it shapes who they are as a person. These are the intangibles that make oncology nurses excellent.
Executive Director, Dr. Mary Jane Esplen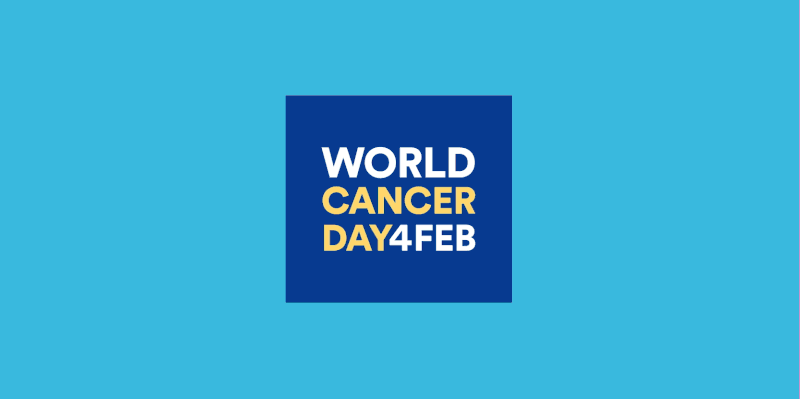 ---
World Cancer Day is the one day of the year when people from around the globe unite in the fight against cancer. 
There have been great advancements in research and treatment, and we are unquestionably headed in the right direction, but the battle never ends. These very same advancements have made it challenging for healthcare professionals to keep up to date. New findings, treatments and approaches are popping up all the time. Keeping pace with everything can be difficult.
In the theme of #WeCanICan, we can help.
Lifelong learning is an essential quality for healthcare professionals and it is an area where de Souza Institute excels.
de Souza Institute is focused on quality improvement and professional development. We are here to support your efforts in making a difference with your career, your colleagues and your patients.
By working together, we will continue to reach greater heights. The key is to bring someone along for the journey.  What we do and more importantly, what you do makes the difference.
Now ask yourself, what can I do to reduce the burden of cancer? What can I do to make positive change?
 
Dr. Mary Jane Esplen
Executive Director de Souza Institute

WE CAN, as an institute make a difference by offering courses that are affordable, accessible and current. We are doing everything we can to make it easier for you to do your job safer and with more confidence.

I CAN, as an individual make a difference by enrolling in a course, mentoring a colleague or being a source of inspiration.
 
"When my clients ask me about certain side effects or treatments I feel I CAN better answer their questions, and then be able to help them more effectively by understanding what is going on and recognize when to get help."
 
"I am just starting to work with patients who are having complications related to chemo and radiation. I have learned so much that I CAN teach patients healthy ways to prevent their complications and how to side step the worst of the side effects. It's very satisfying."
 
"I appreciate the added advantage of the on-line system and the fact that I CAN study and participate at my own pace."
---
From CTV Windsor's Sacha Long: A Windsor nurse received a prestigious designation to better support patients through their end of life journey. Watch Nurse Jo-Dee Lyn Brown speak with CTV Windsor about her de Souza designation and how she feels it has made her better able to support her patients. Congratulations Jo-Dee Lyn!
---
The International Journal of Nursing Education Scholarship has published "Building A High Quality Oncology Nursing Workforce Through Lifelong Learning: The de Souza Model", a paper authored by Esplen, et al. Cancer is one of the leading causes of death in the world. Along with increased new cases, cancer care has become increasingly complex due to … Read more
---
Now beginning our 10th year, de Souza Institute is a well-established leader in providing continuing education resources to health care professionals who support patients and families along the cancer care continuum. In 2017 de Souza Institute achieved a number of accomplishments: New record for number of enrollments, over 3300, representing a 33% increase from 2016 … Read more