Celebrating Nursing Week with 3 New Exceptional Nurses – de Souza Nurses Christine Hipgrave and Amanda MacDonald and Associate Nurse Sheila Courtney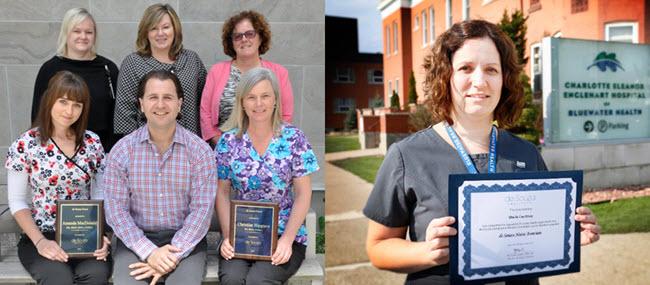 de Souza is proud to celebrate the accomplishments of three oncology nurses in the past few weeks, with both Christine Hipgrave and Amanda MacDonald obtaining their de Souza Nurse Designation, along with Sheila Courtney obtaining her de Souza Nurse Associate designation! Congratulations to all three!
To learn more about these nurses see below:
Nurse Christine Hipgrave remarked, "I chose to pursue the de Souza designation because it provides a well-rounded education that meets patient's physical, psychological and social needs. Before I even started working in oncology, I knew I wanted to achieve this designation for myself and more importantly, for my patients. It is a long process, but so well worth it."
"I decided to pursue my de Souza nurse designation in order to enhance my knowledge, skill and judgment required to support those living with cancer," says Amanda MacDonald. "It has also allowed me to see the value in professional development and in supporting colleagues in continuing education."
Sheila, works at the Charlotte Eleanor Englehart Hospital (CEEH) of Bluewater Health in Petrolia, and is a member of Bluewater Health's Advance Care Planning Committee.  She is a valuable resource on palliative care best practices.
Read more about their achievements in the press releases:
and news coverage:
To learn more about how to obtain a de Souza Nurse Designation, please see the designation section of our website.