Ivan de Souza Awarded Meritorious Service Decoration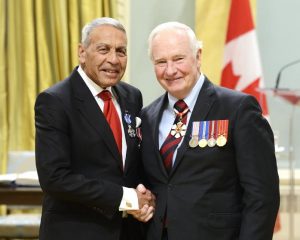 Today, Ivan de Souza was invited to Rideau Hall to accept the Meritorious Service Medal from His Excellency the Right Honourable David Johnston Governor General of Canada. This medal is one of the highest distinctions a Canadian civilian can receive.
Introduced by Prime Minister Brian Mulroney in 1991, the Civilian Division of the Meritorious Service Decoration has been awarded to just over 380 individuals. The program was created to recognize individuals who have performed an exceptional deed or activity over a limited period of time that has brought honour to Canada.
This year Ivan is one of 8 people to be awarded a medal for their work in healthcare.
Inspired by his late wife Anna Maria, who herself recognized that nurses were in need of more support. Ivan gathered a group of individuals from Cancer Care Ontario and the University Health Network who together convinced the Ontario Government to fund a knowledge translation centre that would advance the levels of standardization training and ensure that nurses from all across the province have access to the same training and by default ensuring that patients get the best possible care.
We have come a long way since our formation in 2008 and we can all share in this tremendous recognition. Congratulations Ivan you are a great champion and advocate for improving cancer care and congratulations to all of those who have played an integral part in building the de Souza Institute!
Photo credit: WO RONALD DUCHESNE, RIDEAU HALL © OSGG, 2016.