Upcoming Presentation at HPCO 2017 – iEPECO Advancing Palliative Care Through Standardized Online Education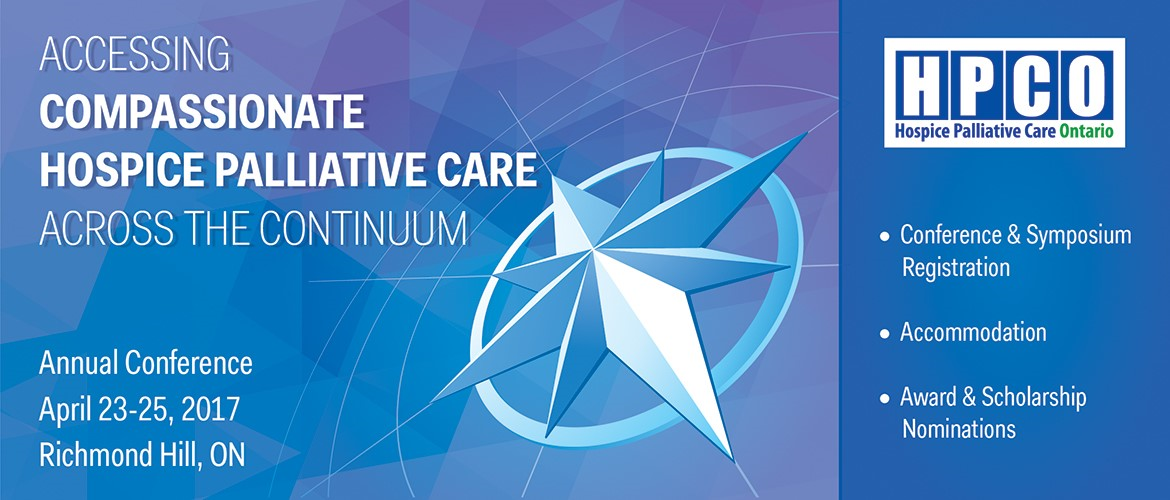 Compassion lives in Ontario. Join us at HPCO 2017 for Accessing Compassion Hospice Palliative Care and don't miss the de Souza Institute team at Session 307 – iEPECO: Advancing Palliative Care Through Standardized Online Education. Further information about the session is below:
Session 307: iEPECO Advancing Palliative Care Through Standardized Online Education
Monday April 24, 2017
Time 10:45am – 12:00pm
Dr. Jiahui Wong, PhD, de Souza Institute, University of Health Network, Toronto, ON
Susan Blacker, MSW, RSW, St. Michaels Hospital, Toronto, ON
Dr. Paul Daeninck, MD, MSc, FRCPC, Cancer Care Manitoba, Winnipeg Regional Health Authority Palliative Care Program, Winnipeg, MA
This workshop describes a new online curriculum on hospice palliative care. The online course, iEPEC-O, is based on the "Education in Palliative and End of Life Care-Oncology" (EPEC -O) curriculum originally developed by a team of clinicians at Northwestern University in partnership with the National Cancer Institute in USA. The curriculum had been updated and adapted for the Canadian landscape by the Canadian Partnership Against Cancer.
This online course is led by three interprofessional EPEC-O educators in Canada. It builds on the original comprehensive curriculum and incorporated recommendations from "The Way Forward" report on person centred approaches. iEPEC-O enhances learning outcomes by leveraging powerful online graphic illustration, interactive activities and audio-visual demonstration of core palliative care competencies.
The workshop presentation will include didactic teaching and interactive activities. We will demonstrate iEPEC-O modules including: evidence based comprehensive symptom assessment and management; a culturally sensitive approach in communication; working with patients and families in setting goals of care; and case illustrations on psychosocial aspects of end of life care. This workshop is suitable for clinicians with intermediate level of knowledge in hospice palliative care. At the end of the workshop, participants will obtain a solid understanding of the online learning process, appreciate learner controlled experience and pace, as well as obtaining clinical tools and decision support that can be immediately applied to day-to-day practice.
Learning Objectives:
1. Expand the learner's knowledge in evidence-based symptom management;
2. Describe holistic person-centred approach in end of life care;
3. Apply principles of interprofessional team based care.
Workshop Stream: Research/ Scientific/Advanced Clinical Practice