#Top5WhileImAlive
National Hospice Palliative Care Week 2017 Message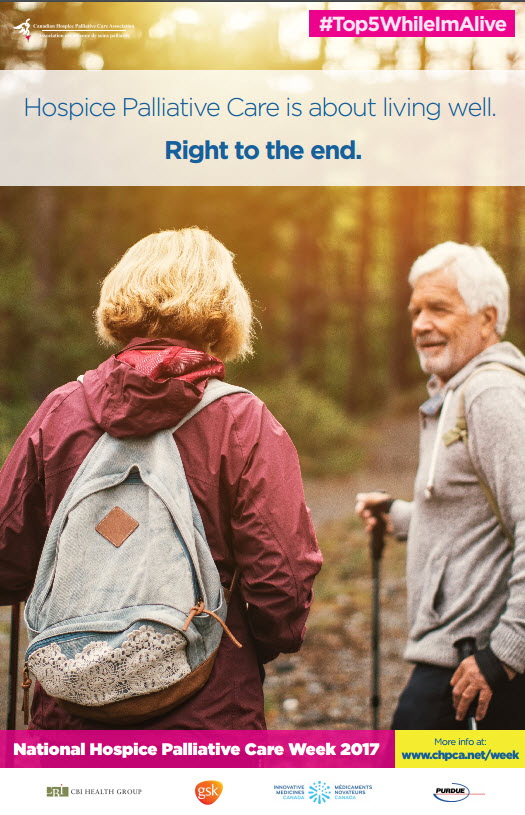 May 7th to the 13th marks National Hospice Palliative Care Week. Over the next few days, activities and discussions will take place all over the country informing Canadians about high quality hospice palliative care. At de Souza Institute, we developed an online course, iEPEC-O (based on the "Education in Palliative and End of Life Care-Oncology" curriculum), for healthcare providers to learn more about end of life care best practices, and become a pillar of strength and support for patients and families.
It is common for people to be afraid to talk about end of life care because there are so many unknowns. iEPEC-O provides clinicians with case-based demonstrations and tools on how to communicate and work with patients and families, to help lessen their fears and emotional distress, and to cope with bereavement, grief and loss. The course also includes team based approach in palliative symptom management to relieve suffering and improve the quality of life for patients and families. The online course offers "just in time" educational support to ensure that high quality palliative care can be delivered to Canadians across the country, including those living in remote and rural areas.
Hospice palliative care is about living life to the fullest. It is relevant to all of us. During the Hospice Palliative Care Week, we will share with each other things that are the most important in our life, through #Top5WhileImAlive. One thing on my list is to have more outings with the children in my life.
Let us use this week to speak with each other, learn from each other and inspire each other to conquer the fear of the unknown and live well right to the end.


Mary Jane Esplen, PhD, RN
Executive Director, de Souza Institute