WHO Year of the Nurse – de Souza Nightingale Series – Janny Proba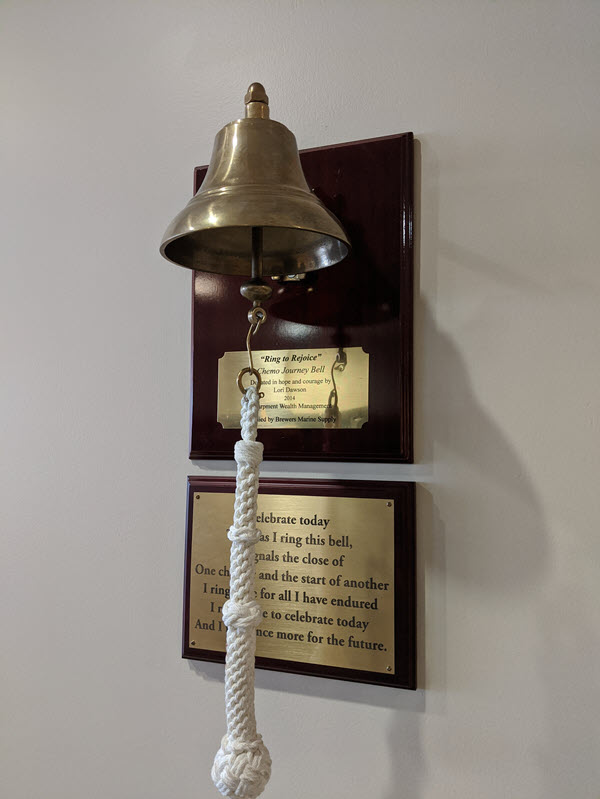 2020 marks the 200th anniversary of Florence Nightingale's birth. Her legacy as the founder of modern nursing continues to influence nurses and improve patient care worldwide.
To celebrate this anniversary the World Health Organization has declared 2020 as the Year of the Nurse and the Midwife. Taking inspiration from her moniker as The Lady with the Lamp, de Souza plans to celebrate this occasion by shining a spotlight on nursing champions and encouraging the development of future champions.
Our Nightingale series will showcase de Souza Nurses as they share with us some of the secrets to their success. We asked them to answer two questions and send us a picture that is meaningful to them.
Introducing Janny Proba from Hamilton Health Sciences
Looking at all your accomplishments throughout your career, if you could go back in time what advice would you give to yourself after in first few years on the job?

I think that the most important thing to do is to say yes to new opportunities, particularly if they make you nervous. There are so many ways for an oncology nurse to impact patient care and to advocate for evidence-informed practices. I would tell my younger self that it's ok to try new things. Being new to the profession doesn't diminish your value and that everyone has something unique they can offer. I would also tell my younger self to not be afraid of the emotional connections that can be made with patients. Showing emotion by empathizing with patients does not make you weak or betray your inexperience. The shared experiences will only strengthen your ability to care for and advocate for others.

A career in nursing is diverse and nurses touch the lives of many including patients, family members and their peers within the interprofessional team. Is there an interaction that has been most memorable to you or what is the most rewarding part of your job?

Early in my career, I cared for a female patient with advanced ovarian cancer. She was a nurse herself and had the kindest soul. This patient was encouraging and understood that I was a new nurse. I remember my hands fumbled constantly with her PEG tube and sweat would bead on my upper lip whenever I had to perform venipuncture. There was a hesitancy in all my nursing actions and I was, by all accounts, a green nurse. But she put me at ease. She was the first patient I had cared for – a nurse herself – who recognized my fears and uncertainty but encouraged me to slow down. She taught me the art of listening. As someone without an immediate family to visit her, she spent the time to teach me how to connect with patients on a deeper level. Her inevitable death was my first one and I cried. It made me question whether nursing (especially oncology nursing) was the right field for me. My practice was forever changed and it has influenced the way I approach new nurses and how I deliver nursing care to these vulnerable populations.

For my colleagues working in oncology, I see a lot of passion and pride in this specialty. Cancer affects so many of us in our personal lives, yet there's not too many nurses who can do what we do. Despite the emotional burden and challenges of caring for patients and families during their darkest moments, oncology nurses are resilient. We rely on each other and we truly are a team. It's a profound privilege to walk the journey with a patient, from the anticipatory phase preceding a devastating diagnosis, to the uncertainty of remission or progression, to the elation of reaching the survivorship phase, and sometimes —to the finality of death and the aftermath for loved ones left behind. As oncology nurses, we can impact the delivery of care, the utilization of resources and services, assist with the development of processes, contribute to the scholarship and advancing the field of oncology nursing, and help patients and loved ones navigate the cancer system. This isn't done in isolation – we know that patients benefit from a palliative approach to their care and it's important to acknowledge the value that having a strong interprofessional team brings. I feel incredibly blessed to work alongside the talented people that I do.

They say that a picture is worth a thousand words. Share with us a picture that you feel best depicts your profession, your team or your work environment and tell us why that picture is meaningful to you.

The Chemo Journey Bell hangs in both our chemo suite and in the radiation department of the Juravinski Cancer Centre. Typically, bells represent the beginning and the end of a journey or event. They've been used to help expand the mind and consciousness, or communicate by announcing celebratory news, or to announce a passing or mourning of a loved one. I think its bittersweet connotations best symbolize oncology nursing. There's a lot of sorrow that can be found in our field, but there's a lot of joy that can be seen in these moments too. The presence of the bell in oncology settings can be controversial to some, but the joy seen in patients who've been fortunate to ring one is remarkable. Its ringing signals that a celebratory milestone had been reached. Oncology nurses are a lot like this bell: doing what we do best – day or night- to be a part of the journey with a patient.