de Souza Institute to use Artificial Intelligence in Latest Effort to Support Cancer Patients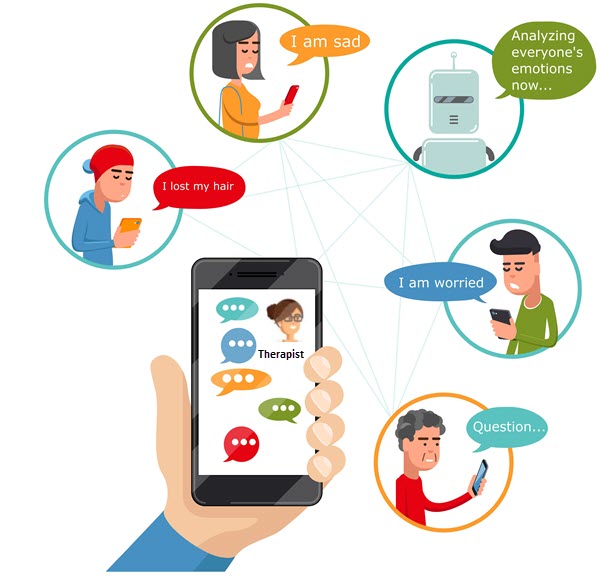 TORONTO, ON – de Souza Institute is proud to announce that it has been awarded a $247,000 research grant to develop an artificial intelligence (AI)-based tool to enhance online psychosocial services for cancer patients. Drs. Yvonne Leung and Mary Jane Esplen lead the project that is supported by an interdisciplinary team with investigators from the University of Toronto and La Trobe University in Australia.
"We are very excited to be just one of the 10 worthy recipients. We thank the Ontario Institute for Cancer Research (OICR) and Cancer Care Ontario (CCO) Health Services Research Network for their confidence in our proposal" said Dr. Leung. "This innovative use of AI will allow us to respond more quickly to patient needs and match them with the most appropriate supportive services across Canada."
The proposed AI tool will be used to support CancerChatCanada, a free-of-charge service which provides professional-led psychosocial support groups to Canadians affected by cancer. During each session the AI will analyze in real time chatroom text and alert group facilitators of potential mental health distress experienced by participants.
The AI assistance will be very useful for the therapist who leads the text-based group chat sessions virtually, and is not in visual contact with the participants. The goal is that the AI tool will help therapists better monitor and address mental health issues throughout the sessions. This project is one of the 10 successful projects in the 2019 Health Services Research Grant competition supported by the Ontario Institute for Cancer Research and Cancer Care Ontario through funding provided by the Government of Ontario.
About de Souza Institute
Established in 2008, de Souza Institute is a part of the University Health Network and partners with provincial cancer agencies across Canada. It was originally funded by Ontario's Ministry of Health and Long-Term Care to provide ongoing educational support, professional development and career counselling to health care professionals caring for cancer patients and families. de Souza Institute is providing cancer care excellence by: delivering innovative continuing education and mentorship programs; helping nurses to achieve national specialty certification; funding graduate scholarships to develop tomorrow's leaders, and supporting in self-care and career development among health care professionals. To learn more about de Souza Institute visit www.desouzainstitute.com